Bangkok Art Biennale 2022

22 October 2022 – 23 February 2023
Bangkok, Thailand
With the third edition's theme of CHAOS : CALM, the Bangkok Art Biennale reflects challenges confronted by humankind during these precarious times. Artists whose works reflect turbulence, trauma and angst remind us of the fragility and weakness of human species. At the same time, in our disruptive and seemingly dystopian world, artists offer glimpses of hope, perseverance and determination to recover and thrive. In this chaos, art can surprise us as a path to overcome deep tensions by creating contexts that encourage calm, reflection, and tranquility. CHAOS : CALM will engage with sub themes that impact the human condition, such as geopolitical rivalry, ideological clashes, neocolonialism, migration, and diaspora. This edition will also contemplate the climate crisis, as artists process the ecological collapse and destruction of Mother Earth while urgent warning signs around us continue to be dismissed and ignored.
Highlight venues include The Prelude, One Bangkok and The PARQ.
Thapana Sirivadhanabhakdi, founder and chairman of Bangkok Art Biennale Foundation, said "BAB is an important project with artistic, cultural and economic value.
It was launched in 2018 and has aimed to drive Bangkok to become a world's top tourism centre for contemporary art and a major destination for art enthusiasts worldwide. During Apec, we will have a chance to showcase the wonderful masterpieces from renowned local and international artists to all delegates and representatives participating in the meetings,".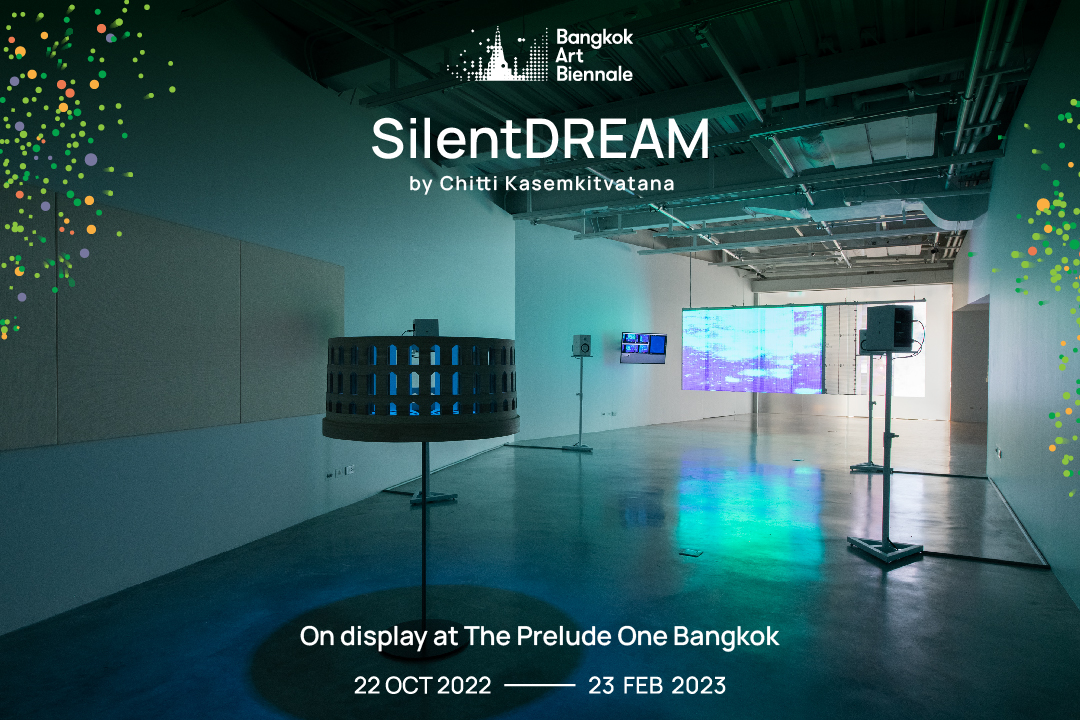 Venue: The Prelude One Bangkok
Artist: Chitti Kasemkitvatana
At the centre of Chitti's work stands a concept of ephemerality and emptiness, of the presence of the absent/absence with particular focus on its permeability. He disseminates a radically expanded concept of art, as social practice above all, a sphere of enabling, a domain of encounter, a network and free space. Artistic, curatorial, educational and publishing work all have an equal footing within these parameters.
In his own artistic work Chitti focuses on the moment in which various spheres become 'porous'. The various fields and periods are interwoven in a multitude of ways. He is also interested in whether different spacetime concepts influence social structures and individual daily life and how these manifest themselves as dialogue, or even in the form of a collision, including passages of Thai modernity, scientific proposals and potential measurement of spacetime, are brought together to unveil the interconnectedness of current events and the wider tapestry of history in which they unfold.
SilentDREAM focuses on string of moments from the eve of Siamese modernity, circa 1830s, to present-day sociopolitical trajectory, entailing an active process of construction of time in Thai society. Along with transmissional signals of void and schism in contemporary social topography, images of the earliest master plan of modernity initiated by Phra Vajirayana Thera (King Rama IV), the Khrua In Khong's mural at the ordination hall of Boromniwas Temple are transmitted into sound waves. Being encoded as dynamism of forces, the work demonstrates the coexistence of different time layers in the same moment, in which multidimensional structure of frequencies and digital waves are constantly diffracting, influencing and working inseparably at the exhibiting site.
Location: https://goo.gl/maps/R4E46UHUhJfZqvnM9
Venue: The PARQ
Artist: Uninspired by Current Events
Uninspired by Current Events is a computer graphic artist. His provocative works combine art and politics in digital renders with humor and ridicule. Aiming to make statements about the events of the day, his works comprise of 3D models rendered hastily in a manner, which recalls the tradition of satirical and ironic politics comic strips. Without political figures or written descriptions, the meaning of the works are open for interpretation.
Uninspired by Current Events gained a cult following starting in 2021 as he reflected on the tumultuous events and fake news during the height of the global pandemic and Thailand's political unrest. Much like the news, the artist posts daily; however, unlike the traditional media, the metaphorical and surreal scenes depicted encapsulate the complex sentiments shared by the general public, which often escape authoritarian scrutiny and censorship. Uninspired by Current Events' graphics epitomize the fleeting nature of online discussions. Each visual element may be a literal representation or metaphor that could only be immediately decoded by those already updated on the popular message of the day and familiarity with the slang and codewords. While the render images attempt to narrate Thai current events, it also suggests and reveals how we, inspired or not, are accustomed to encoding our messages under the pressure of censorship.
For BAB 2022, Uninspired by Current Events will be shown in both physical and virtual venues, featuring an video installation and artworks. The video will feature monuments of Thailand and Bangkok city in the artist's signature style. True to their artistic style, these slick monuments are not to be taken at their face value. They are allegories for the social critique of contemporary politics and events. In the video installation, participants will be able to interact with the scenery, however they please unbounded by the social contract and the rule of law, which may bind us in our daily lives.
Location : https://goo.gl/maps/8aXmKcazdbVqYK3A9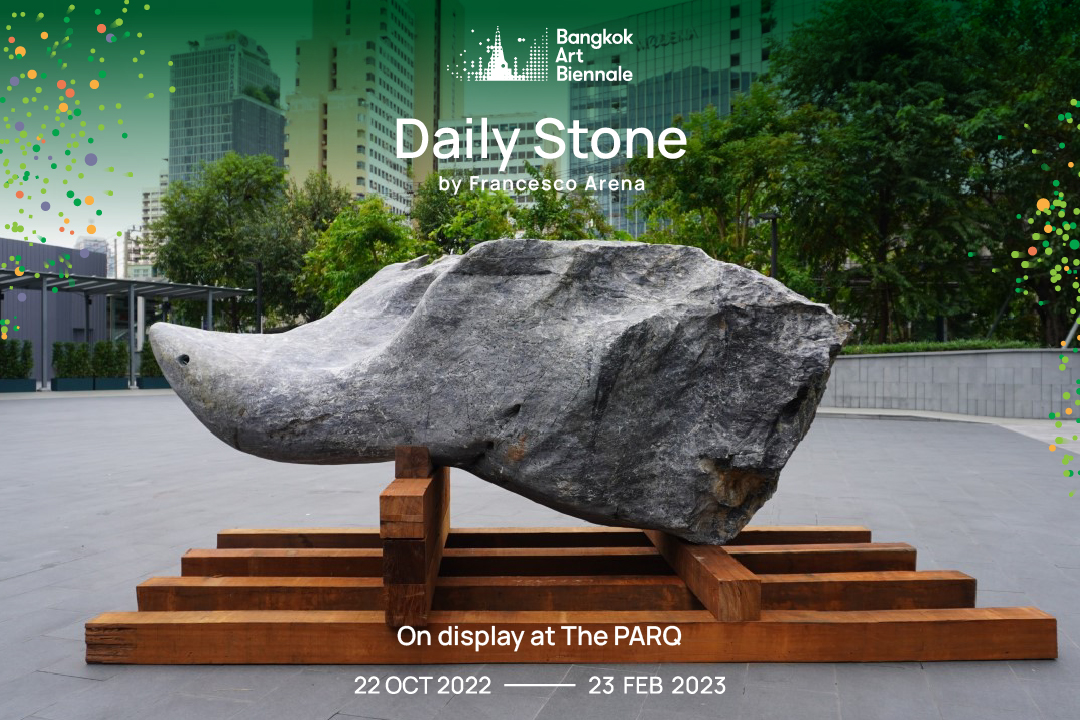 Venue: The PARQ
Artist: Francesco Arena
Francesco Arena is an independent artist whose practice includes performances, installations, and sculptures. His research often moves along two tracks – that of collective history and that of personal history – forming two lines that touch, overlap, and cross. This idea is reflected in the objects and materials of his works, which blend everyday objects such as diaries, cigars, and living room furniture with classical sculptural materials such as marble, slate, and bronze. Arena's work has been exhibited widely including at PYFF, Ping Yao, Shanxi, China, the Walker Art Center, Minneapolis, Kunstmuseum St. Gallen, Switzerland, and the Palazzo Strozzi, Florence.
Numbers that take on form; if one were to compress a large part of Francesco Arena's work into a simple, direct formula, this could certainly be it. From a linguistic point of view, his work can indeed be read as a development, a personal "derivation" of sculptural processes that arise from the geometric shapes typical of Minimalism or Arte Povera in its abstraction and impersonal key that is mixed with experience, historical narrative, or private facts. However, as we place Arena's work in its thematic view, it is apparent that his pieces are the translation of formulae and numbers linked to those facts and histories from which they originate.
Daily Stone is a work realized for the Bangkok Art Biennale 2022. A part of a majestic natural stone's surface has been engraved to create two-plane surfaces on which to place the day's newspaper. Every day the newspaper is changed, as 'today's' news becomes 'yesterday's' news. In this way, the artwork constantly changes, keeping current with the current dispatch. In contrast to the ever-changing report, the stone, which has now become the carrier of the daily news,  remains unchanged and uninterested in human facts, just as it has been for millennia. Static and fleeting are the two elements of the Daily Stone, which could only be defined and complete once the newspaper and the stone are juxtaposed together.
Location : https://goo.gl/maps/8aXmKcazdbVqYK3A9